Join the team en…
wordt deel van de snelst
groeiende familie
Tijdens je stage ga je heel veel verschillende dingen leren én doen! Denk bijvoorbeeld aan het ondersteunen van het SEO-traject door het maken van zoekwoordenanalyses, social media bijhouden voor Whello, de Whello nieuwsbrief opstellen en ondersteuning bieden bij Google Adwords en Facebook campagnes.
Onze wishlist
Onze wensen komen uit als jij…
een gerelateerde opleiding aan het HBO/WO volgt
affiniteit hebt met online marketing
gemotiveerd bent en hard werken niet ongewoon voor je is
de Nederlandse taal uitstekend beheerst, zowel mondeling als schriftelijk
minimaal 32 uur per week beschikbaar bent voor een periode van minimaal 20 weken
sociaal bent en openstaat voor gezamenlijke lunches en borrels!
sfeerimpressie? Check ons Instagramaccount.
What's in it
for you?

Een goede samenwerking komt van twee kanten. Daarom krijg je van Whello veel terug voor je inspanningen:
Een informele werksfeer
Work hard, play hard – de leukste vrijmibo
Een jong team met enthousiaste en gemotiveerde medewerkers
Goede begeleiding
Een passende stagevergoeding
De kans om je te ontwikkelen tot een echte online marketing goeroe
Fijne werkplek met een pooltafel en tafeltennistafel
Uitdagende en leerzame projecten
Flexibele werktijden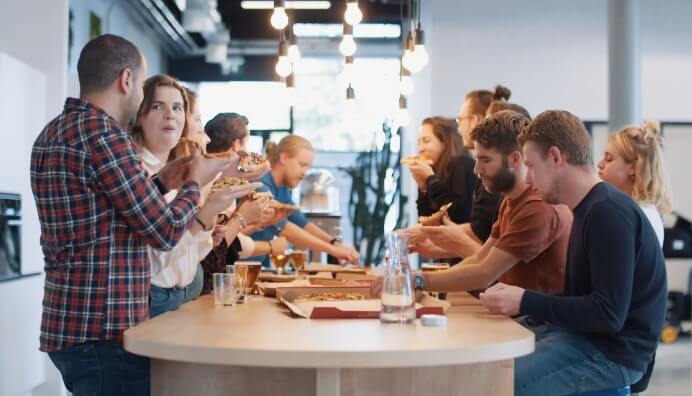 Solliciteren bij Whello
Dit kan je verwachten






Ben je geïnteresseerd
en klaar om in het
diepe te springen?
Laat dan je gegevens achter! We nemen snel contact met je op om kennis te maken.
Work hard…
Play harder!
Dagelijks doen wij er alles aan om onze klanten blij te maken met online resultaat. En daar worden wij ook blij van! Er wordt hard gewerkt, maar daar staat ook zeker wat tegenover!
Zoals vrijdagmiddag relaxen onder het genot van een biertje en muziek. Of lunchen aan het IJ met uizicht over hartje Amsterdam.